Meet Dear Smartphone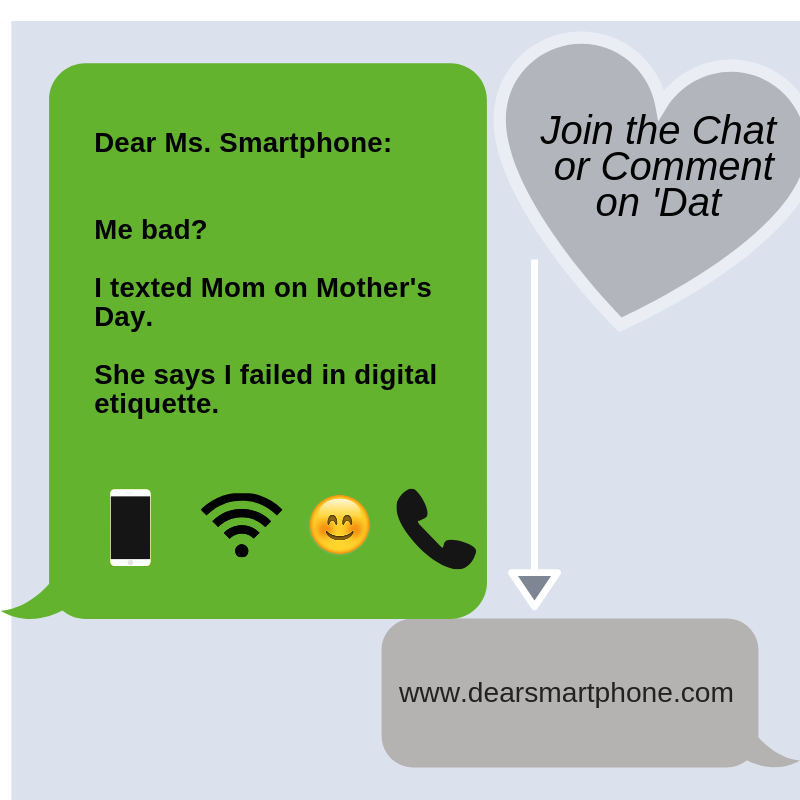 Just a parent- one with a solid research tool box- trying to make sense of how smartphones change our lives. I have been following tech and mobility since graduate school .
Jane Gould is the voice of Dear Smartphone. Her interest in 'Dear Smartphone' began in 2017 while working on two separate projects: first, a media campaign in California to reach drivers distracted by smartphones and second, a volunteer activity in Mass. teaching seniors to use phones for ride-share. She shelved plans to market a second book called, "The Really Smartphone" in order to concentrate on 'DearSmartphone.'
The backbone of DearSmartphone is communication theory.
Suppose you wanted to reduce the likelihood that someone would look at their phone while driving? Successful campaigns, ranging from buckle-up/seat belt campaigns to 'share-the-road' are generally more effective when they design with a light touch and humor. First they prime their audience and then they provide information and resources. The goal is to effect opinion change and behavior.
Jane's holds a PhD from the Annenberg School of Communications at Penn and did her thesis on susceptibility to media. While she does not present herself as an unassailable expert, she has managed to raise three digital natives who are responsible on social media and IRL.
Jane's interests are both in media and telecommunications. While at AT&T/Bell she became interested in the future of telephony and digital technologies. She then pursued this interest as a post-doc at the Institute of Transportation Studies, UC Irvine. Her primary research has been on the diffusion of innovation- specifically the adoption rate for electric vehicles, home shopping, home delivery and like services. She has co-authored more than a dozen academic papers in transportation and marketing journals (list available upon request). The majority of her research is on new technology and how social and cultural issues shape adoption. Her experience with public opinion surveys led her to write a seminal paper on smartphone mobility and passive tracking.
Jane has worked at the London Business School (UK) as a researcher and at UCLA as a transportation planner. At UCLA she developed both the "BruinGo" and the "Read and Ride" campaign; the latter anticipated that commuters would recapture work and leisure time with WiFi. She also created campaigns to encourage safer pedestrian and bicycle travel. More recently, she has worked on the social factors surrounding the adoption of autonomous vehicles. Most of these transportation topics are synthesized in her book called "Aging in Suburbia" and through a monthly blog, 'GrayHomes Smartphones' continuous since 2014.
"DearSmartphone," the advice column, and @dearsmartphone at Instagram provide insight on mobility and innovation. These are user driven sites that invite public discussion and discourse on how smartphones shape our travel, relationships, and social attention.